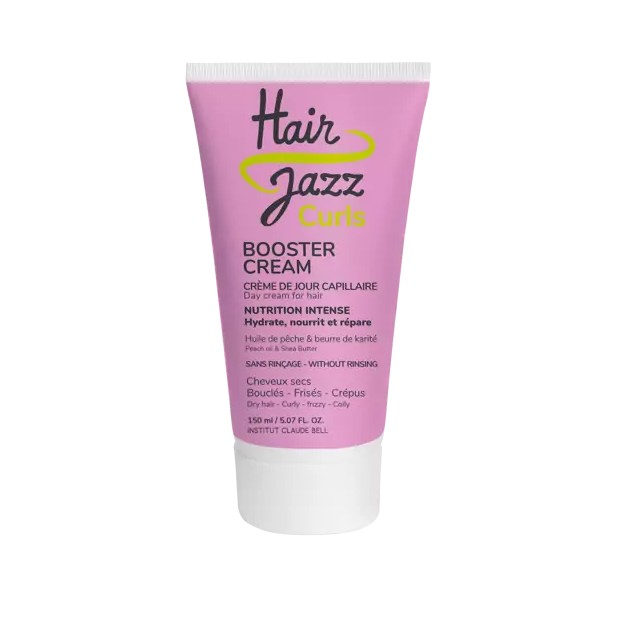  
Curls booster cream for hair by Hair Jazz
Curls you've never had just in 30 seconds!!
Results after one wash

An easy way to form curls

Quick effect

Long-lasting curls
Hair Jazz USA
CHIA SEED OIL

penetrates the hair shaft to seal in moisture. It makes your curls softer and deeply hydrated.

COCONUT OIL

seals in the moisture, prevents your curls from breaking and from split ends.

SUNFLOWER SEED OIL

not only protects your curls and hydrates them but also reverses cellular damage caused by free radicals.

FLAX SEED EXTRACT

feeds your curls with B vitamins, which makes them grow stronger and healthier

Hair Jazz Curls Booster Cream For Hair (5.07 fl oz): after showering apply a small amount of the product on the whole length of your hair including the ends, thoroughly dried or lightly towel-dried. No rinsing is required. Style. Avoid contact with eyes. 
Get this curl booster cream from Hair Jazz to restore your curls quickly. Our bouncy curls hair booster cream is a uniquely formulated product that instantly gives your locks glorious, vibrant, and defined curls. Pour a few drops of this curly hair booster on your palms, apply it on your wet locks, and your natural curls will form in no time. After it dries, the cream will be completely absorbed into your hair. The product leaves no crunchy or sticky feel. 
Besides restoring your natural curls, our 4c curling cream controls frizz and provides a high moisture level. Thanks to this boost curl cream, you'll get nourished, flexible, and incredibly defined curls without the clumping effect. Its moisturizing power comes from chia seed, coconut, and sunflower seed oil. It also has flax seed extracts that provide your curls with vitamin B, thus making them grow healthier and stronger. Purchase this fantastic curl booster cream from our online store today!
HAIR JAZZ CURLS Booster Cream For Hair (5.07 fl oz): AQUA, C15-19 ALKANE, ISOPROPYL MYRISTATE, HELIANTHUS ANNUUS SEED OIL, GLYCERIN, CETEARYL ALCOHOL, COCOS NUCIFERA OIL, RICINUS COMMUNIS SEED OIL, CETEARYL GLUCOSIDE, DISTEAROYLETHYL DIMONIUM CHLORIDE, LINUM ISITATISSIMUM SEED EXTRACT, SALVIA HISPANICA SEED EXTRACT, XYLITOL, TOCOPHERYL ACETATE, CAPRYLYL GLYCOL, CAPRYLIC ACID, TRIETHYL CITRATE, BENZOIC ACID, DEHYDROACETIC ACID, BENZYL ALCOHOL, SODIUM HYDROXIDE.