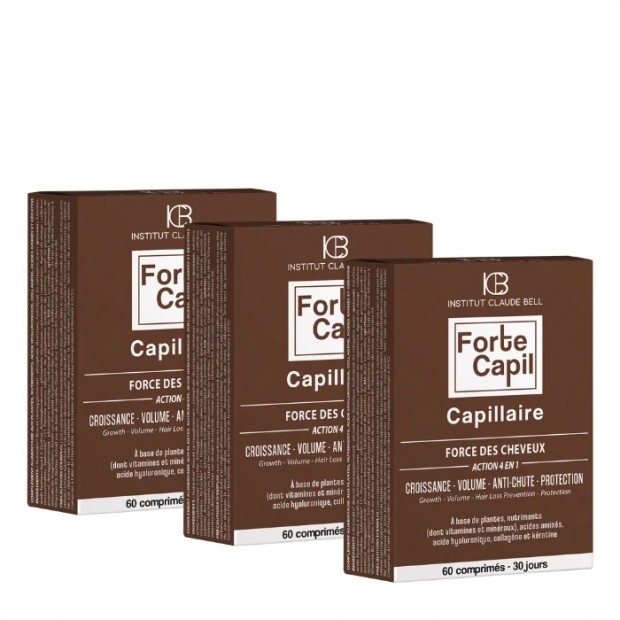  
Hair growth vitamins by Forte Capil - 3 Months Supply
Forte Capil Hair Growth Vitamins Set includes:
3 x Forte Capil Vitamins
FORTE CAPIL Vitamins - balanced nutrition for your hair!
Helps to keep the hair healthy

Nourishes hair, skin and nails from within

Protects cells against oxidation

Maintains normal hair pigmentation
Hair Jazz USA
DO YOU WANT SHINY AND STRONG HAIR? TRY FORTE CAPIL VITAMINS FOR HAIR!
The French scientists and beauty experts from the Claude Bell Institute have developed the unique FORTE CAPIL product line to promote hair growth, concentrating on oral vitamins. The test results showed that external hair care products are often not enough, even with a balanced diet. Through intensive studies and laboratory tests, a composition of active ingredients was found that can significantly improve the structure of human hair. This is how a unique formula of plant origin was discovered that promotes hair growth and regrowth after hair loss.
Benefits of main ingredients:
Biotin

- supports the health of your hair, strengthens the hair and adds shine to it. Biotin also helps in preventing various health problems like hair loss, dandruff, scalp itchiness, etc

Keratin

–  is especially important for maintaining the structure of the skin, supporting wound healing, and keeping the hair and nails healthy and strong.

Vitamin E 

- ensures the health of the scalp, prevents hair loss and helps to replenish the shine that the hair loses as a result of damage
28%
Increase in hair density


3 x Forte Capil Vitamins (60 tablets): Take 2 tablets in the morning with a large glass of water for 30 days.
Forte Capil Vitamins (60 tablets): NUTRICIBLE® BEAUTY (DICALCIUM PHOSPHATE (ANTI-CAKING AGENT), MARINE COLLAGEN HYDROLYZATE, HYDROLYZED KERATIN, HYALURONIC ACID), L-CYSTINE, MAGNESIUM CARBONATE, MICROCRYSTALLINE CELLULOSE (ANTI-CAKING AGENT), NUTRICIBLE®111 POMME (APPLE PECTIN), NUTRICIBLE® POMME OPC (APPLE POWDER), TRICALCIUM PHOSPHATE (ANTI-CAKING AGENT), WHEY PROTEIN HYDROLYZATES (12% CYSTEINE), MAGNESIUM STEARATE, BAMBOO SHOOT (BAMBUSA LONGISPICULATA) EXTRACT, DL-ALPHA-TOCOPHEROL (VITAMIN E), NIACIN (NICOTINAMIDE), BIOTIN (D-BIOTIN), BLUEBERRY (VACCINUM MYRTILIUS) EXTRACT, ZINC OXIDE (7.5 MG OF ZINC), PANTOTHENIC ACID (CALCIUM D-PANTOTHENATE), COPPER GLUCONATE, PYRIDOXINE HYDROCHLORIDE (VITAMIN B6), MALTODEXTRIN.
* Contains gluten