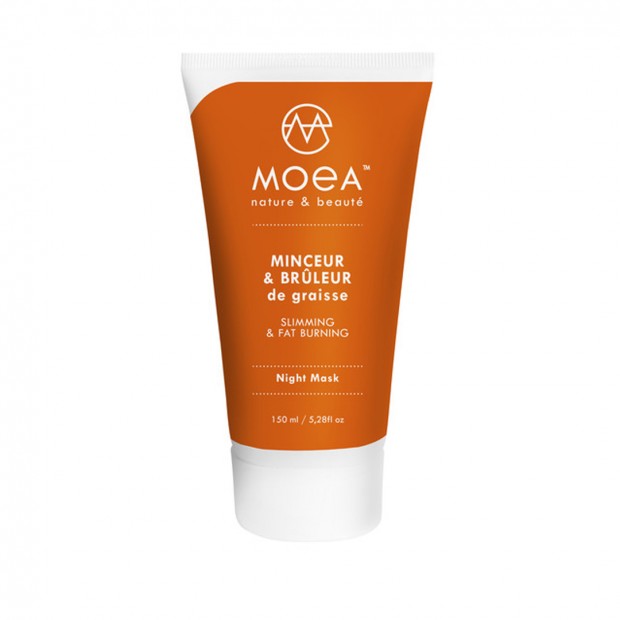  
Anti-cellulite night mask by Moea
MOEA Body Firming and Smoothing Night Mask
Visibly reduces the appearance of cellulite

Helps to break down fat cells in the problematic areas

Blurs the appearance of dimpled skin

Helps to visibly firm and smooth the look of the skin

Enhances the appearance of a more toned and defined body silhouette
MOEA Body Firming and Smoothing Night Mask 
Overnight anti-cellulite mask with capsaicin and mustard sprout extract (warming effect):
Reduces water retention in the cellulite tissue
Blurs the appearance of dimpled skin
Helps to visibly firm, smooth, and tone the look of the skin
Kaolin has detoxifying and cleansing properties
Sunflower oil helps to regenerate the skin and improve its elasticity
Pleasant and natural orange water and vanilla scent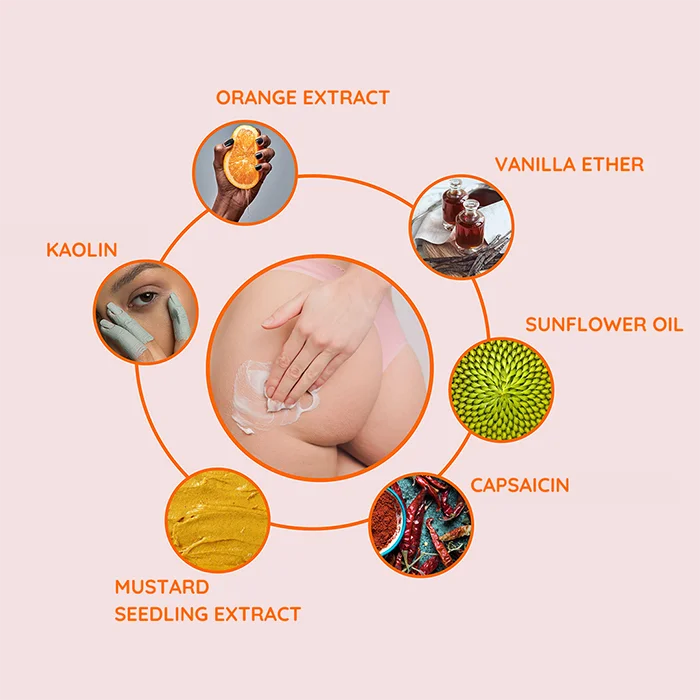 This innovative product combination helps to activate microcirculation and reduce the appearance of cellulite.
Fast-absorbing and incredibly hydrating cream
Pleasant natural orange water and vanilla scent
NO synthetic colorants and fragrances
MOEA Night Mask (5.28 fl. oz): In the evening, massage the problematic areas with light circular movements. Do not apply to damaged or cracked skin. Wash your hands after each use. Avoid contact with eyes. In case of eye contact, rinse cautiously with water for a few minutes. Keep out of the reach of children. Store at room temperature.
Are you tired of dealing with unsightly cellulite on your body? Do you want to wake up with smoother, firmer, and more toned skin? Look no further than MOEA's anti-cellulite night mask! 
Specially formulated with a powerful blend of natural ingredients, including kaolin, capsaicin, and mustard seedling extract, this product reduces the appearance of cellulite and improves overall skin texture. Therefore, anyone can use this anti-cellulite mask at home - no expert application is necessary! The lightweight formula's refreshing scent will help you relax and drift off to sleep. 
Truly, the anti-cellulite body mask reviews speak for themselves! Not only does this body mask help fight cellulite, but it also deeply moisturizes and nourishes the skin. You'll wake up with soft, hydrated skin that looks and feels refreshed.  
MOEA's night mask is suitable for all skin types and is gentle enough for regular use. Try it today and see the difference for yourself! Truly, the anti-cellulite body mask before and after photos are hard to deny!
MOEA Night Mask (5.28 fl oz ): AQUA, HELIANTHUS ANNUUS SEED OIL, KAOLIN, GLYCERYL STEARATE, GLYCERIN, CAPRYLIC/CA -PRIC TRIGLYCERIDE, CETEARYL ALCOHOL, CETEARYL  GLUCOSIDE, CAPSAICIN, BRASSICA ALBA SPROUT EXTRACT, CITRUS SINENSIS FRUIT WATER, TOCOPHERYL ACETATE, VANILLYL BUTYL ETHER , XANTHAN GUM, PARFUM, CI 15985, POTASSIUM SORBATE, SODIUM BENZOATE , DEHYDROACETIC ACID, BENZYL ALCOHOL, CITRIC ACID, HEXYL CINNAMAL, LIMONENE, LINALOOL.