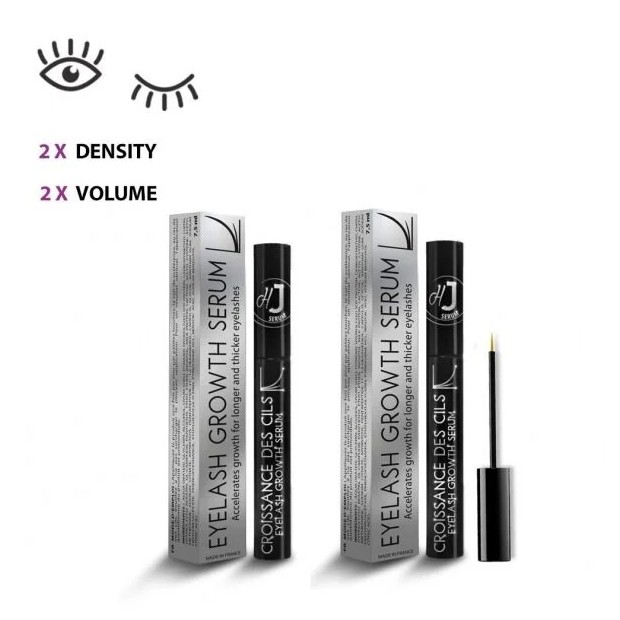  
2 x Eyelash growth serum without hormones by Hair Jazz
HAIR JAZZ Eyelash Growth Serum without hormones- for a hypnotizing look!
Stimulates eyelash growth

Improves flexibility, moisture, and shine for fuller-looking lashes

Improves both density and volume

Prevents eyelashes from falling off

Ophthalmologically and dermatologically tested
HAIR JAZZ Eyelash Growth Serum (0.25 fl oz) -  the active ingredients of Soy Protein, Keratin, Chitin, Camphor, Vitamin B, Follicusan™, which are rich in Milk Proteins, SYMPEPTIDE XLASH® created with Myristoyl Pentapeptide-17 accelerates eyelash growth, improves both density and volume, strengthens eyelashes, stimulates cells and vitalizes eyelash follicles. Unique combination without hormones!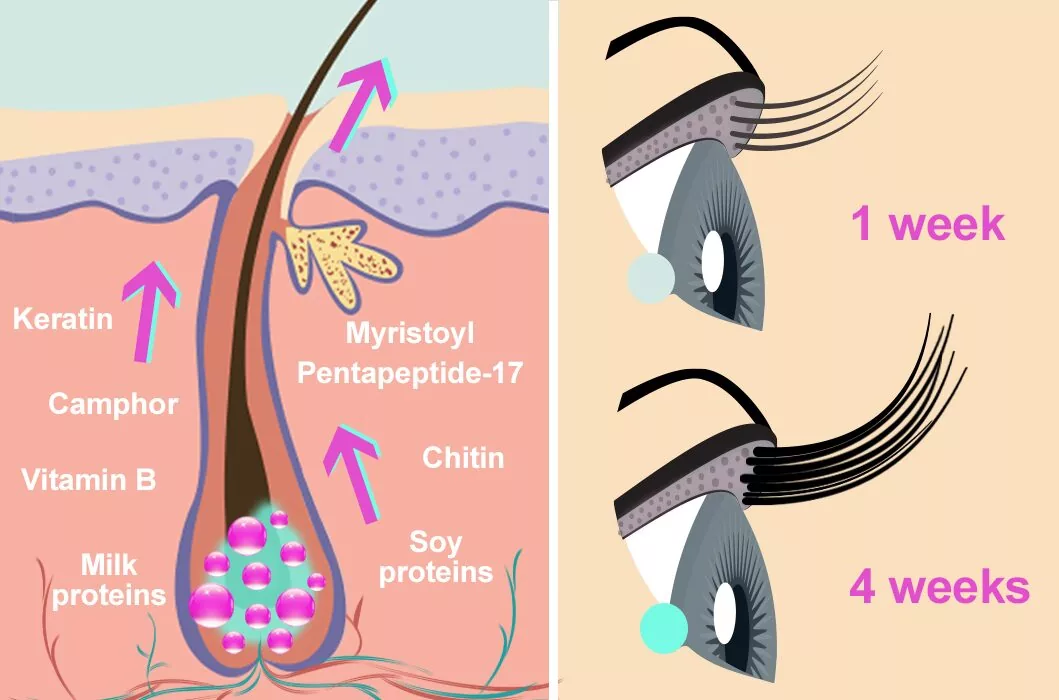 SYNERGY of SOY PROTEIN and MILK PROTEIN improves the structure of the lashes, whilst strengthening and repairing damaged lashes. Protein is considered one of the building blocks of lashes since the lash itself is naturally made of protein. Lack of protein would normally cause thinning of the lash or disruption to its normal growth cycle. If your eyelashes are lacking body, moisture, resilience, shine, length, or gloss proteins might just be what they are missing.




KERATIN

is another element of lash composition aside from protein. Hair Jazz serum is rich in keratin which helps to keep your eyelashes healthy.

OVUM SHELL POWDER

is rich in calcium. To be able to produce keratin, it is important to provide enough calcium for the process. Calcium stimulates the production of keratin and ultimately – the eyelash growth process.



VITAMIN B

is the most important vitamin for eyelash growth, especially when your lashes are prone to falling out easily.



CHITIN

engages the growth of new lashes and fights the loss of lashes.

CAMPHOR

stimulates blood flow to the applied area and promotes the growth of lashes. Additionally, it has antibacterial and antifungal properties that help to prevent infections.
4 weeks
Improvement of eyelashes condition visible in 4 weeks
8 weeks
Best results were achieved when used daily for at least 8 weeks


HAIR JAZZ Eyelash Growth Serum (0.25 fl oz): Apply a thin line twice per day to eyelashes above the level of the skin. One brush stroke on the upper eyelashes is sufficient. Only a small quantity is needed to beautify your lashes. Use it consistently for the best results. If you use it before applying makeup, ensure you allow the product to dry first.
HAIR JAZZ Eyelash Growth Serum (0.25 fl oz): AQUA (WATER), GLYCERIN, ALCOHOL, OVUM SHELL POWDER, HYDROLYZED SOY PROTEIN, CARBOXYMETHYL CHITIN, HYDROLYZED KERATIN, DL-CAMPHOR, PANTHENYL ETHYL ETHER, INOSITOL, MILK PROTEIN, LACTOSE, ACETYL CYSTEINE, ACETYL METHIONINE, SODIUM CITRATE, MYRISTOYL PENTAPEPTIDE-17, 1,2-HEXANEDIOL, CAPRYLYL GLYCOL, XANTHAN GUM, SODIUM DEHYDROACETATE, PHENOXYETHANOL, ETHYLHEXYLGLYCERIN, PYRIDOXINE HCL, BENZOIC ACID, SODIUM BENZOATE, CITRIC ACID.
Eyelash growth serum 0.25 oz.