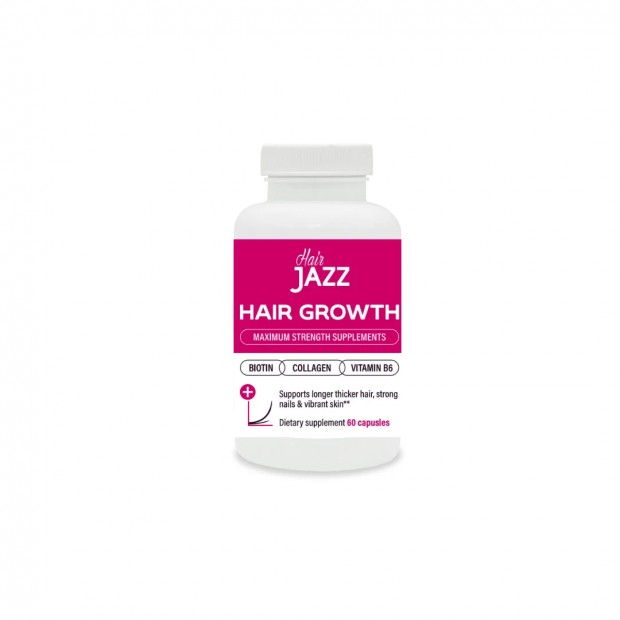  
Hair Growth Vitamins by HAIR JAZZ
Best-selling HAIR JAZZ Vitamins with keratin, collagen, and biotin for stunning hair!
Stimulate hair growth

Visibly reduce hair loss

Nourish and strengthen hair follicles

Increase thickness and volume

Makes hair softer and shinier
Hair Jazz USA
HAIR JAZZ nutritional supplements with hyaluronic acid, keratin, and collagen are the fruit of the work of French experts at the Claude Bell Institute. HAIR JAZZ vitamins can become an excellent part of your daily hair care routine, which will give your hair and nails special beauty.
Benefits of the main ingredients:
Vitamin E supports the scalp and gives your hair a strong base to grow from by reducing oxidative stress and preserving the protective lipid layer
Biotin is an essential B vitamin, supporting healthy hair structure, stimulating dormant hair follicles, and preventing hair loss and thinning. 
Keratin makes hair smoother, shinier, and healthier-looking. In addition, it helps to smooth hair cuticles and fill in damaged areas in the hair shaft.
Collagen strengthens hair structure from within, stimulates hair growth, and gives hair body and shine.
Hyaluronic acid reduces dryness, brittleness, and frizz, and makes hair shinier, softer, and healthier
*Contains gluten
28%
Increase in hair density


HAIR JAZZ Vitamins (60 tablets): Take 2 tablets in the morning with a large glass of water for 30 days.
HAIR JAZZ Vitamins (60 tablets): NUTRICIBLE® BEAUTY (DICALCIUM PHOSPHATE (ANTI-CAKING AGENT), MARINE COLLAGEN HYDROLYZATE, HYDROLYZED KERATIN, HYALURONIC ACID), L-CYSTINE, MAGNESIUM CARBONATE, MICROCRYSTALLINE CELLULOSE (ANTI-CAKING AGENT), NUTRICIBLE®111 POMME (APPLE PECTIN), NUTRICIBLE® POMME OPC (APPLE POWDER), TRICALCIUM PHOSPHATE (ANTI-CAKING AGENT), WHEY PROTEIN HYDROLYZATES (12% CYSTEINE), MAGNESIUM STEARATE, BAMBOO SHOOT (BAMBUSA LONGISPICULATA) EXTRACT, DL-ALPHA-TOCOPHEROL (VITAMIN E), NIACIN (NICOTINAMIDE), BIOTIN (D-BIOTIN), BLUEBERRY (VACCINUM MYRTILIUS) EXTRACT, ZINC OXIDE (7.5 MG OF ZINC), PANTOTHENIC ACID (CALCIUM D-PANTOTHENATE), COPPER GLUCONATE, PYRIDOXINE HYDROCHLORIDE (VITAMIN B6), MALTODEXTRIN.
* Contains gluten
Data sheet
Composition

Cotton

Property

Short sleeves