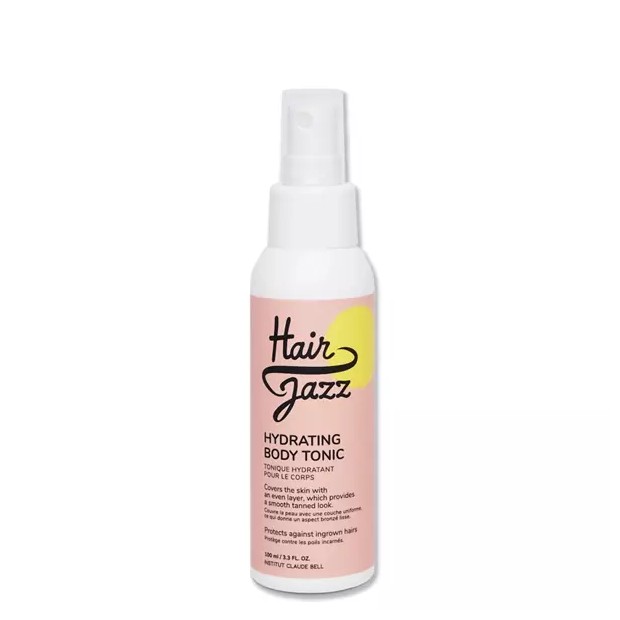  
Hydrating body lotion for tanning by Hair Jazz
It is time to do it right for a better tanning effect and healthy skin!
Prepares the skin for better absorption

Hydrated the skin makes it feel soft and fresh

Calms, protects and soothes the skin
Hair Jazz USA
SALICYLIC ACID

is well-known for gently exfoliating the skin and keeping the pores clear. It prepares the skin for better absorption of Hair Jazz Self-Tanning Mousse.



PROPYLENE GLYCOL

works as a barrier to keep the moisture in your skin, helping it stay hydrated. Such type of hydration helps to avoid spreading Hair Jazz Self-Tanning Mousse unevenly due to dry areas, however, it does not create a barrier for the product to be absorbed.

CALENDULA

has anti-inflammatory, antifungal, and antibacterial properties which help to protect the skin, so it remains healthy and smooth.

CHAMOMILE

has been used as a home remedy for ages due to one of its parts- Bisabolol. It calms and soothes the skin before tanning procedures. 

HAIR JAZZ Hydrating Body Lotion to Prepare Skin for Tanning (3.4 fl oz): Use HAIR JAZZ Hydrating Body Lotion before applying HAIR JAZZ Self-Tanning Mousse. Massage it with fingers to targeted zones or use a cotton pad for better exfoliation. 
Using precautions: For external use only. Consult a doctor if swallowed. Avoid contact with eyes. If the product comes into contact with the eyes, rinse thoroughly with clean water. Keep out of the reach of children.

Are you searching for a safe self-tanning hydrating solution devoid of harmful chemicals? Choose our multi-skin-compatible body tanning lotion for soft and fresh-looking skin. This nature-inspired self-tanning product ticks all the boxes of being user-friendly, fast-drying, and durable.  
Our well-formulated body tan lotion has calendula and chamomile to protect, calm, and soothe your skin, keeping it looking healthy and glowing. Plus, it has salicylic acid to exfoliate and open skin pores and propylene glycol to preserve skin moisture.  
Our hydrating body lotion's undertone is perfect for all skin complexions and colors. The idiot-proof self-tanner works best for all skin types, producing even tones free of streakiness. You don't have to worry about that awful after-tan smell typical with chemical-infused self-tanners, as our self-tanning hydrating lotion has a pleasant fragrance.  
Don't forget to browse our online product catalog for more tanning products. To start achieving soft, sun-kissed skin in the comfort of your home, place an order now!
HAIR JAZZ Hydrating Body Lotion to Prepare Skin for Tanning (3.4 fl oz): AQUA (WATER), ALCOHOL (DENAT), GLYCERIN, PROPYLENE GLYCOL, CALENDULA OFFICINALIS FLOWER EXTRACT, LARREA DIVARICATA EXTRACT, LECITHIN, SALICYLIC ACID, BISABOLOL, PPG-1-PEG-9 LAURYL GLYCOL ETHER, POLYQUATERNIUM-10, BUTYLENE GLYCOL, SODIUM BENZOATE, POTASSIUM SORBATE, CI 42090