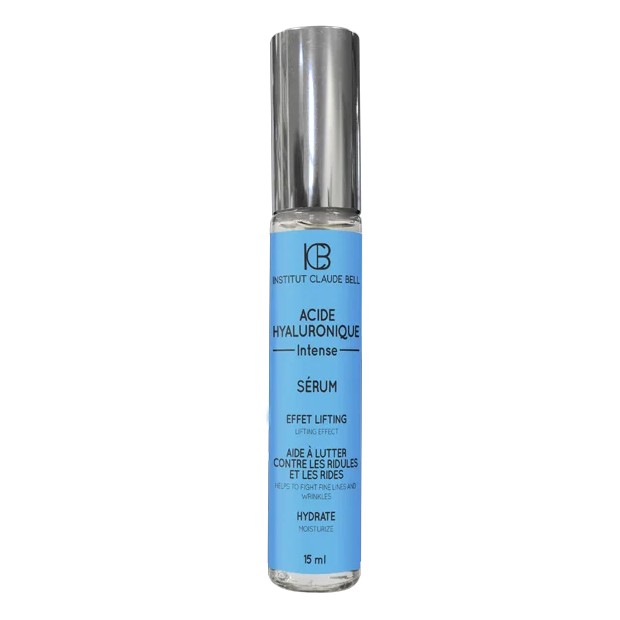  
Hyaluronic acid serum for fine lines and wrinkles
Intense Hyaluronic Acid Serum reduces fine lines and wrinkles!
Slows down skin's aging process

Gives skin firmness and elasticity

Reduces fine lines and wrinkles

Deeply moisturizes

Suitable for all skin types
Hyaluronic acid
is found throughout our bodies (50% of it is in the skin). An average person (170 lbs) contains about 0.6 oz of hyaluronic acid, out of which 0.2 oz is being replaced daily. Due to its fast decay process, it only lives for less than a day. The body's hyaluronic acid resources are constantly renewed but due to environmental aggressors, the rate slows down with time. Therefore, it is necessary to act early and sustain an optimal hyaluronic acid turnover.
Intense Hyaluronic Acid Serum (0.5 fl oz): Apply daily in the morning or evening on a clean face. For best results, use it in combination with Intense Hyaluronic Acid Cream. Avoid contact with eyes.
Are you looking for a product that can help reduce fine lines and wrinkles? Look no further than our hyaluronic acid serum. This serum features quality ingredients such as aqua, glycerin, propylene glycol, sodium hyaluronate crosspolymer, aloe barbadensis leaf extract, and allantoin, which help to hydrate and firm the skin. 
This hyaluronic acid serum benefits all skin types. It can help to plump up the layers and reduce the appearance of wrinkles. This makes it the best serum for fine lines on the forehead. Clinically proven to improve skin hydration and reduce the appearance of wrinkles, anyone over the age of 40 should include it in their regimen! 
If you're looking for the best serum for fine lines and wrinkles, look no further than Institut Claude Bell's hyaluronic acid serum. Order online now to get your hands on one of the best skincare products. It will go a long way in improving the appearance of fine lines and wrinkles!
Intense Hyaluronic Acid Serum (0.5 fl oz): AQUA (WATER) , GLYCERIN, PROPYLENE GLYCOL, SODIUM HYALURONATE CROSSPOLYMER, ALOE BARBADENSIS LEAF EXTRACT, ALLANTOIN, POLYACRYLATE CROSSPOLYMER-6, PARFUM (FRAGRANCE), CITRIC ACID, SODIUM PCA, GLUCOSE, ETHYLHEXYLGLYCERIN, UREA, PENTYLENE GLYCOL, T-BUTYL ALCOHOL, GLUTAMIC ACID, LACTIC ACID, GLYCINE, GLUCONOLACTONE, LYSINE, SODIUM BENZOATE, PHENOXYETHANOL, POTASSIUM SORBATE, CALCIUM GLUCONATE, HEXYL CINNAMAL, ALPHA-ISO-METHYL IONONE, LIMONENE, LINALOOL, LILIAL.