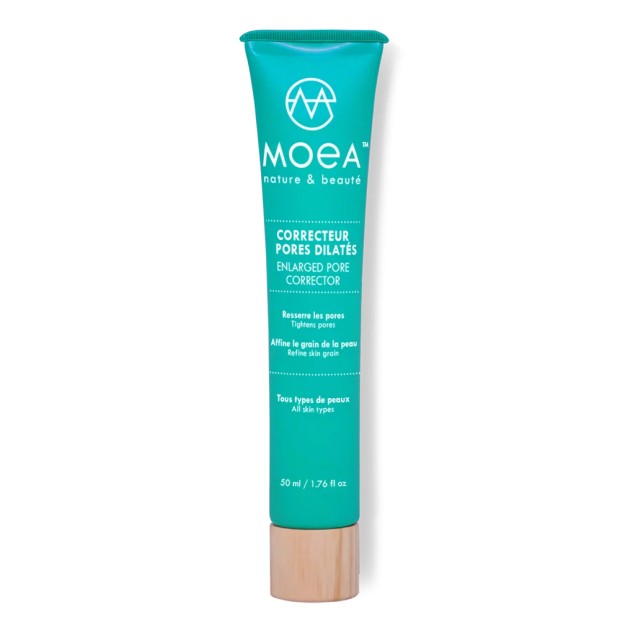  
MOEA Pore Corrector with PoreTect™ reduces the pores and rejuvenates skin cells!
Unclogs pores and helps them look smaller

Strengthens skin tissues to keep the pores tight

Improves skin smoothness, overall tone, and texture

Smooths acne scars and lightens dark spots

Helps skin look tighter and younger
The unique combination of active ingredients PoreTect™, flaxseed extract, and celery extract reduces the pores, increases skin firmness and elasticity, and strengthens skin tissues to keep the pores tight. Also, it provides a long-lasting silky and matte effect.


- PoreTect™ is a skin texture rejuvenator! This eco-designed active ingredient counteracts the age-related pore enlargement. It brings firmness, tone, and density to the skin, reinforcing the structures that hold the pore tight.
- Flaxseed extract improves skin smoothness and hydration and reduces both skin sensitivity and roughness.
- Celery extract that is high in Vitamin A is used in skin products because of its ability to soothe and reduce wrinkles. It can also help smooth acne scars and lighten dark spots from sun damage.
Clinical tests
Clinical tests of 34 volunteers, ages 35 to 58, using the same active ingredients, during the 4-8 weeks, indicated:
Pores became smaller and less visible

Increased skin smoothness, firmness, and elasticity

Skin looked healthier and younger
Made in France. Alcohol-free. Vegan.
MOEA Pore Correcting Serum (1.76 fl oz): Apply in the morning before makeup. Spread gently on the skin until the cream is completely absorbed.
Introducing the ultimate skincare solution - MOEA's powerful pore corrector! Say goodbye to enlarged, clogged pores and hello to smooth, flawless skin. 
MOEA's pore-correcting serum includes a unique blend of natural ingredients that work together to gently exfoliate and remove impurities from your skin. It penetrates deep into your skin, targeting the root cause of pore problems. The product dissolves and removes excess oil, dirt, and impurities from your pores, leaving your skin looking and feeling clean and refreshed. 
Using this zero-pore serum is easy and hassle-free. Simply apply a small amount to your fingertips and massage into your skin using a circular motion.  
Try our pore-minimizer serum today and start enjoying the benefits of clear, smooth, and flawless skin. With regular use, you'll see a visible improvement in the appearance of your pores and the overall health of your skin. Don't let bad skin leave you feeling down - get the best pore-fixing products online at Hair Jazz today.

MOEA Pore Correcting Serum (1.76 fl oz): Aqua (watter), Prunus Amygdalus Dulcis (Süssmandel) Öl, Glycerin, Isononylisonanoat, Isopropylmyristat, Capryl / Capric Triglycerid, Sucrose-Polystearat, Glyceryl-Stearat, Carbomer, Polyacrylat-Crosspolymer-6, Hydrogeniertes Polyisobuten, Glyceryl-Behenat, Apium Graveolens-Samen-Extrakt, Linum Usitatissimum-Samenextrakt, Sorbitan-Trioleat, Parfum (Duftstoff), Tocopherylacetat, Triethylcitrat, Caprylylglycol, Benzoic Acid, Sodium-Benzoat, Potassium-Sorbat, Natriumhydroxid, Alphaisomenthylionon, Benzylsalicylat, Lilial, Citronellol, Eugenol, Hexyl Cinnamal, Limonene, Linalool.
MOEA Pore Correcting Serum