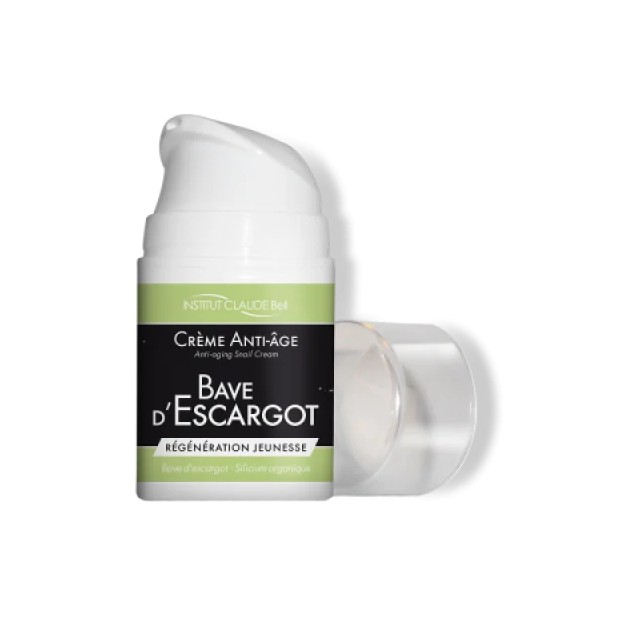  
Anti-aging face cream with snail secretion extract
Anti-aging Face Cream with Snail Secretion Extract
Activates facial skin regeneration and slows down the aging process

Effectively reduces small and deep wrinkles

Evens out facial skin tone

Intensively nourishes the skin

For all skin types
Snail secretion is a natural treasure that helps snails' bodies to regenerate and heal damaged skin extremely quickly on its own. Meanwhile, organic silicon in the cream stimulates the regeneration of collagen, a key component of the epidermis. Thanks to this unique combination of the two ingredients, the cream provides the skin with extremely effective protection against aging.
The secretion, called the elixir of youth, contains an incomparable combination of these active ingredients:
Elastin

protects the skin, keeps it elastic, and effectively helps to fight skin aging

Collagen

increases skin tissue's resistance to deformation and helps skin cells to regenerate faster

Allantoin

hydrates, soothes and regenerates the epidermal tissue
60%
instantly longer lasting hydration, even after 5 hours
21%
reduced skin roughness


Anti-aging Face Cream with Snail Secretion Extract (1.69 fl oz): Apply the cream on clean skin in the morning and evening.
Experience the best wrinkle treatment for your face with one of the best anti-aging skin products. Infused with snail secretion extract, this cream effectively targets fine lines, wrinkles, and age spots. 
The product contains powerful ingredients like elastin, collagen, and allantoin that promote your skin's elasticity and hydration and increase its resistance to deformation. This product also includes organic silicon, which stimulates the regeneration of collagen.  
This snail mucin face cream is suitable for all skin types and is non-greasy and lightweight, which makes it perfect for daily use. The natural and safe formula of this cream ensures that you will see results in just a few weeks. Get ready to see a noticeable difference in your skin's texture, elasticity, and overall appearance with this anti-aging face cream. 
Don't doubt its abilities; let the reviews speak for themselves. Order online to try it out today and embrace your youthful beauty once again.
Anti-aging Face Cream with Snail Secretion Extract (1.69 fl oz): AQUA, GLYCERIN, DICAPRYLYL CARBONATE, GLYCERYL STEARATE, CAPRYLIC/CAPRIC TRIGLYCERIDE, METHYLSILANOL HYDROXYPROLINE ASPARTATE, BUTYROSPERMUM PARKII BUTTER, PENTAERYTHRITYL DISTEARATE, GLYCOSAMINOGLYCANS, TOCOPHERYL ACETATE, SODIUM POLYACRYLATE, SODIUM STEAROYL GLUTAMATE, CITRIC ACID, SALICYLIC ACID, SODIUM CHLORIDE, PHENOXYETHANOL, SODIUM BENZOATE, POTASSIUM SORBATE, CHLORPHENESIN, PARFUM.